Dr Roger Grace 1945-2019
"2019 saw the passing of one New Zealand's marine conservation heroes. He will always be missed. He can not be replaced, he was unique. Roger pursued his love of the Ocean all his life. In the later part of his life, he worked tirelessly to reverse the steady decline of our marine life. He was a consummate field biologist, a great member of any team or boat he ever worked on. His has a list of accomplishments and contributions few would believe is possible for one person to complete in a lifetime. Most of all Roger brought uniquely positive energy to each and every project and challenge he faced. He never tired of helping people that crossed his path. For many of us active in marine ecology and conservation in New Zealand, he was always there to support in any way he could, he guided our journey in many subtle ways. His sense of humour and smile kept us all going. Rest in peace Roger my friend and colleague."
Vince Kerr
Roger at work with the Fish Forever team in the Bay of Islands photo Dean Wright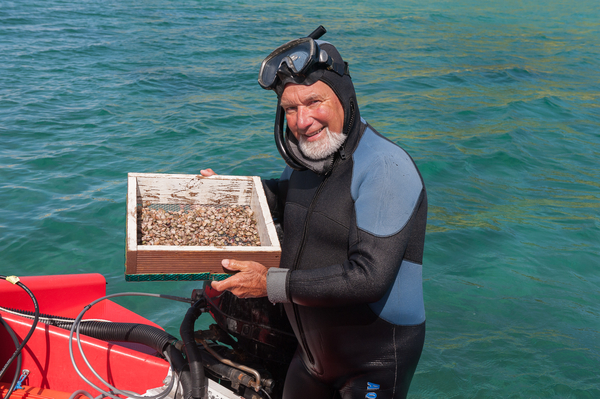 A memorial fund has been established and is administered by the Mountains to Sea Conservation Trust.
A special committee is under establishment to decide on the use of these funds, made up of a Mountains to Sea Conservation Trust representative, a member of the Grace family and other environmental organisations Roger has worked with. Queries to be directed to Samara Nicholas - This email address is being protected from spambots. You need JavaScript enabled to view it.
The priorities of the memorial fund are below:
1. Long term crayfish monitoring at Tawharanui
2. Marine conservation establishment projects (no-take and long term)
3. Memorial annual Whangateau Snorkel Day
4. Triennial Award for early career recipients for contributions to New Zealand marine conservation and communication, to support and give credence to their future work
Please note that Mountains to Sea Conservation is a registered charity (CC23406) and has fully audited accounts. All donations are tax-deductible. The funding received for the Dr Roger Grace Memorial Fund has a separate bank account. The special committee will decide on the use of these funds based on the priorities above.
If you would like to help us to continue to make waves for Roger, please donate at the Experiencing Marine Reserves web page. (click on link below)
Donate to the Roger Grace Fund to help the realisation of Roger's Dream of a healthy Ocean.
There are some tributes and lovely photos of Roger in action with the Mountains to Sea Conservation team on the EMR donation page.
Roger on duty with Fish Forever in the Bay of Islands, providing the evenings' entertainment as per usual, photo Dean Wright