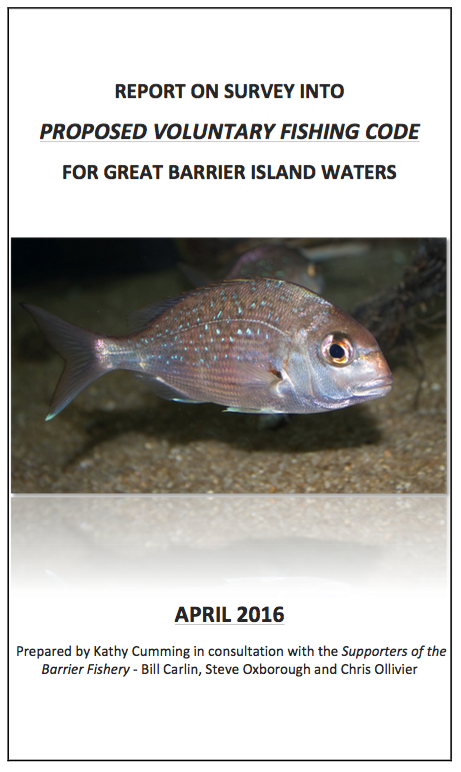 Local communities typically have a passion for their local coast and its resources. They also have a depth of knowledge about their area. Can local communities engage in local management? Should they? Or is this the domain of Government bodies. In this section we explore these questions and provide some examples of voluntary projects both here and overseas.
Great Barrier Islands
A group of locals on Great Barrier Islands have teamed up with the Local Community Board to create a voluntary fishing code. They have long been concerned about the decline in local fishing stocks. A report based on interviews of local people has recently been completed. The link follows below.
GBI voluntary fishing code report
---

Fishcare
A New Zealand wide initiative has been set in motion by the NZ Sport Fishing Council and LegaSea lobby group in the recreational fishing sector. The program is information and web based. They are challenging the NZ recreational fishing sector to adopt five principles all aimed at benefiting the fishery and fishers. See the link to this site below.
The Five Principles are:
Fishing techniques (reduce harm to fish)
Handling and releasing (how to avoid damage to released fish)
Utilisation (respecting the resource by fully utilising fish caught)
Impact (reduce impact on other sea life)
Safety (improve safety for fishers)
Another interesting and positive example of a voluntary program is Free Fish Heads, promoted by TV fishing shows' Matt Watson. This programs matches people who have fish heads and carcuses to discard, with people who want to utilise this part of catch resource. In making this connection the program aims to increase awareness of how various cultures utilise fish and at the same time teach respect for the resource. This can lead to conservation of fish stocks via less wastage. The program works via a smartphone app that connects the fisher with people who want to use the head and carcuses for food.
---

Supporting Customary Management
As a result of Treaty of Waitangi Settlement we have a range of tools that can come under local control via your local iwi and hapu. It is well worth becoming familiar with these tools in the Fisheries Act and see what you can do to support your local hapu. See our section on Supporting Customary Management.
---

Try A Little Kindness
This is a story from the Florida Keys about the famed Tarpon gamefish which is now threatened by overfishing. The story begins with a local dock owner coming to the aid of a distressed and injured Tarpon. What happened next is a fascinating story ending in a voluntary no fishing area, where over time thousands of people get the chance to meet a Tarpon face to face. Go to the web site link below to get the full story and have a look at the video.
This story shows how a small voluntary no fishing area became good for the fish, the local economy and loved by the community.
Robbie's Dock - The Story of Scarface
Another way to influence local fisheries management is to engage in MPI's various fisheries planning processes. MPI maintains a web site of consultation processes where it is seeking input from the public, MPI Consultation page.
It is also possible to formulate a local fisheries plan and seek support for it from MPI via special regulations. The Kaipara Harbour community went through a very thorough community process to produce this report Kaipara Harbour Fishing for the Future.